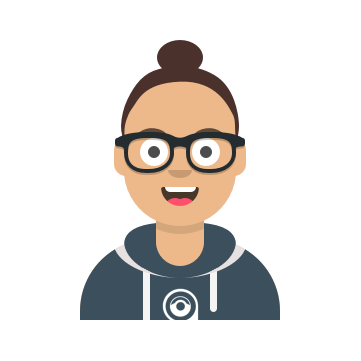 Catherine Hicks
User Experience and Product Design Professional
Apple Computers
Facilities Management - Meeting Room Utilization
About Apple Computers
Apple Inc. is an American multinational technology company headquartered in Cupertino, California, that designs, develops, and sells consumer electronics, computer software, and online services.
Facilities Managers and their associates need to be able to manage meeting room's health and utilization for maintenance and planning. They also need to be able to see details on specific meeting rooms to be able to troubleshoot the scheduling and see the utilization of these rooms
Managers will have access to all relevant data across all buildings they manage to make appropriate decisions on resource allocation and meeting room management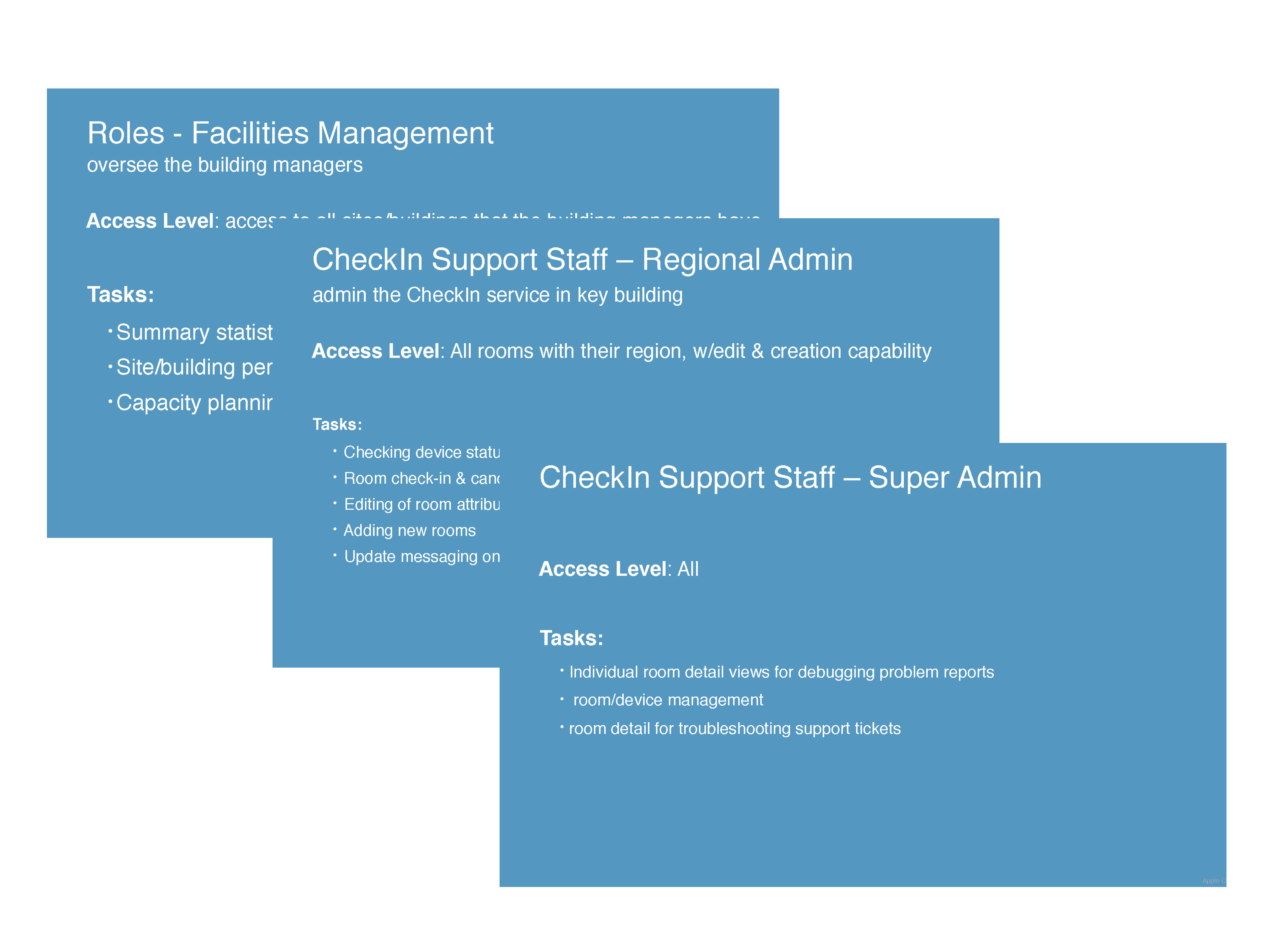 Before the project began we needed to fully understand the needs of all facilities team that may be using this tool to manage meeting rooms
There was already an existing tool that was not working, which allowed us to talk to facilities to understand the gaps and what they both needed and would like it to do

We did not set up personas in the traditional way. The personas were built based on position and what that position needs to be able to within their job responsibilities.
This was presented alongside the other interview data in a presentation deck in the project kickoff meeting
The personas allowed us to find the similarities and differences between roles that finally allowed us to come up with one concept that would work for everyone's individual needs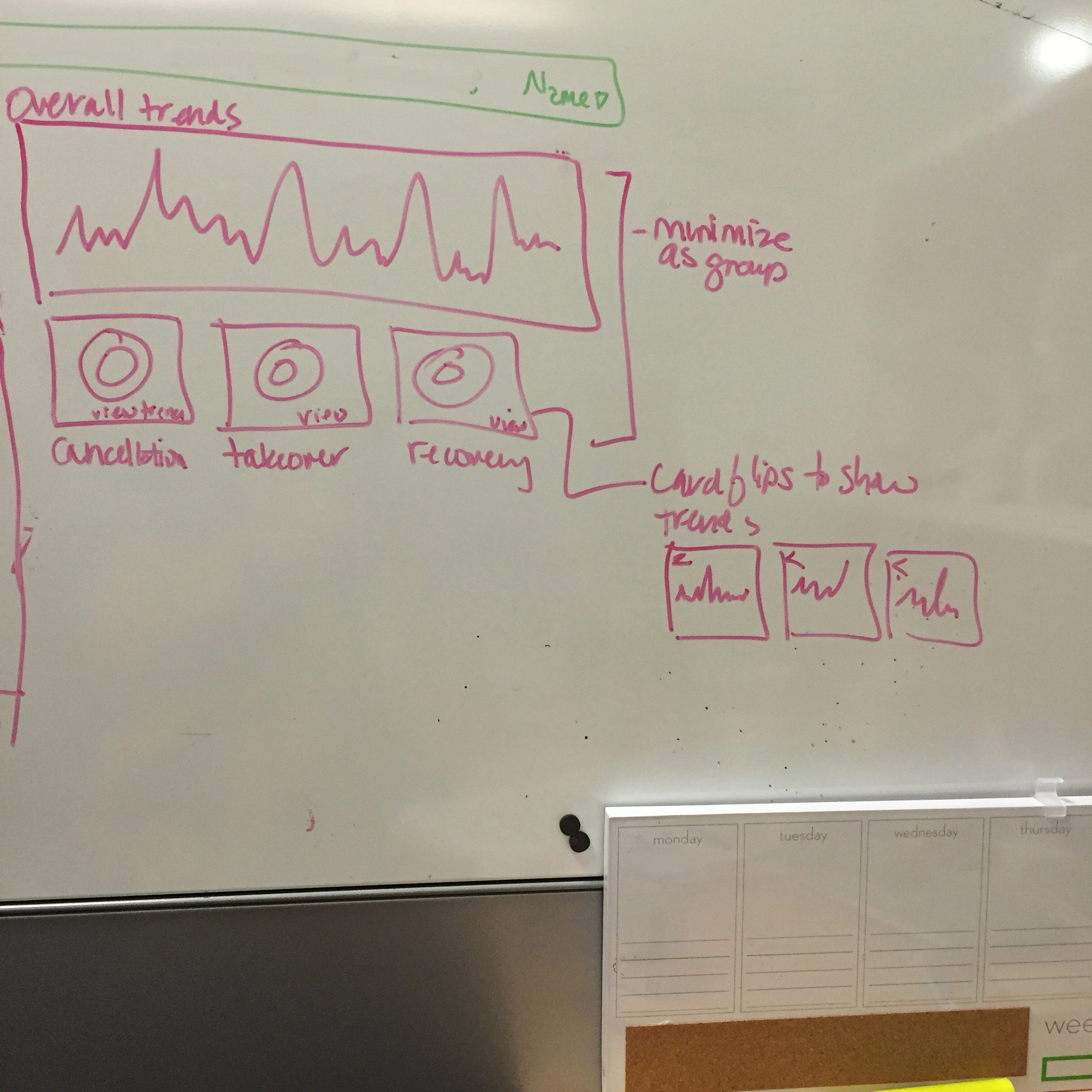 We came up with many ideas, but ended up with the drill down procedure to be able to see both globally (campuses) and detailed (individual rooms within individual buildings) views.
We could build one platform because the roles were very similar in terms of their needs and those could be addressed by having specific views.
Once we hit on the drilldown approach from global to specific we were able to address all team's needs easily
These sketches were done for team collaboration and brainstorming as we continued to think through the ideas in meetings
The general personas we built above allowed us to make sure we were able to build correctly for all needs
You can see the different approaches we took as we moved forward in the design process below.
The drill down approach seemed to be the easiest way to get to the information that you may need and allowed easy user permissioning of the different roles and matching their needs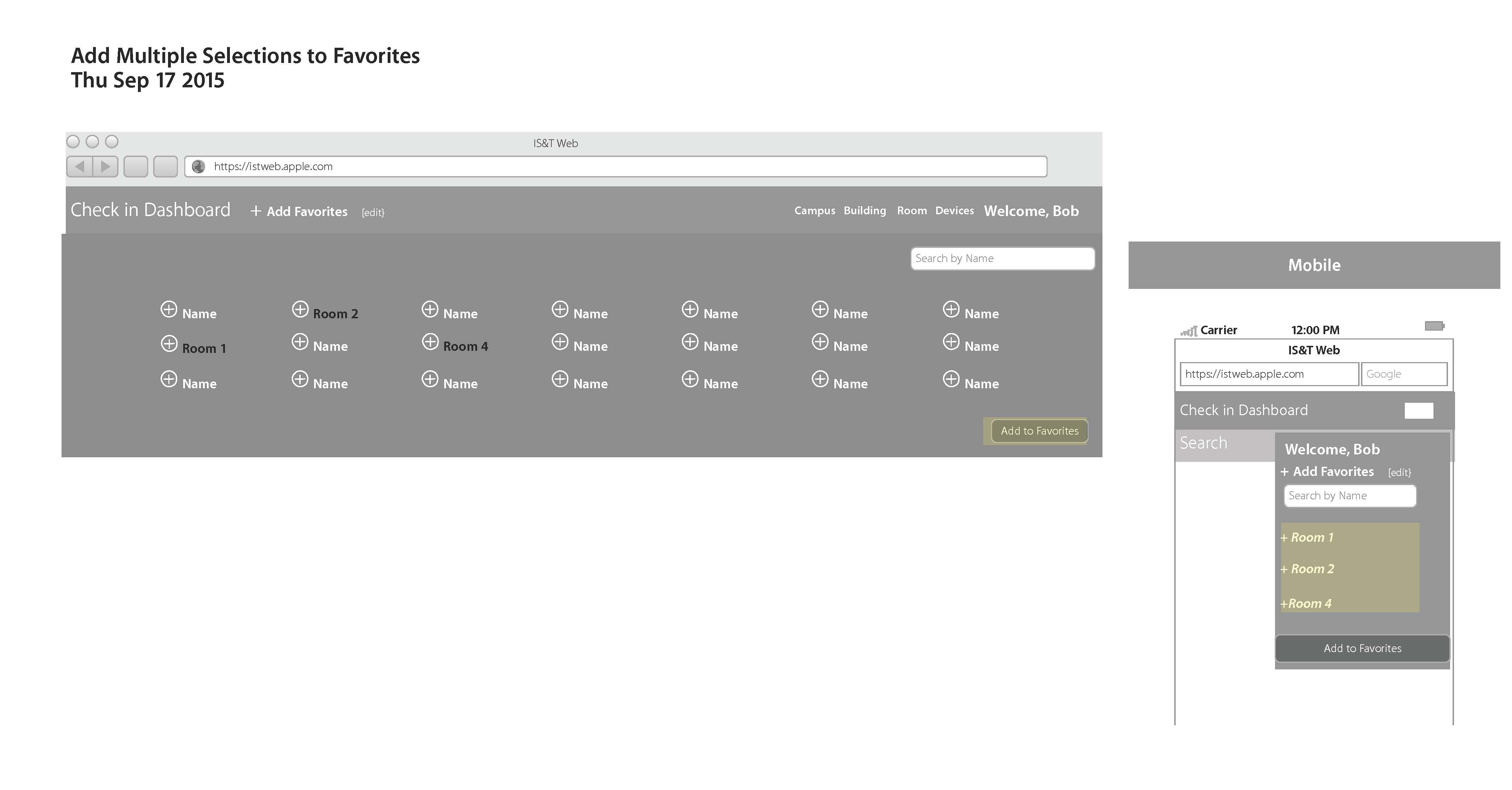 After so much brainstorming and finally coming up with a concept it was time to formalize it with low fidelity wireframes for review.
It was useful to do this because the team had the idea of the concept and how we were going to approach this but the fully formed feature - therefore the low fidelity wireframes were all we needed to finalize the discussion
We had about 5 iterations once we came across the tree/drilldown structure we did, all of which were created with Omnigraffle on the Mac.
This project was quite a challenge for me in terms of thinking of how to organize large data sets in a manner that would allow it to be cut into many different sizes and types of pieces. It really helped me focus on data driven design in a more structure way that I took forward to other roles down the line
How to set the data structure in a manner where all users could get what they needed easily was probably the biggest challenge of this project
We tried many different approaches - some that addressed one user group specifically but then lacked the details for the other.
When we finally came up with the idea of using what is basically a tree structure, we hit upon the manner in which every person who needed access to the data could drill down in ways that were meaningful to them.
The main thing that surprised me on this project was looking at
the amount of data facilities needed to understand from the meeting rooms in order to make decisions on facilities management and allocation.
I didn't realize how much went into that when looking at the extremely large Apple campus - which has many buildings on many different sites
They key takeaways that I moved forward with after this project were
How to work within rather rigid existing structures like Apple's design systems
How to build dashboards and frameworks for detailed data sets